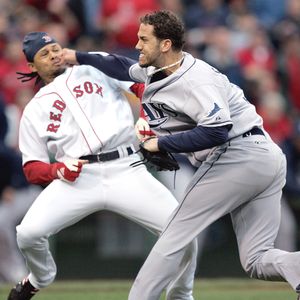 Just as the dust was settling and the coast was clear, Jonathan Papelbon opened his mouth and set the field ablaze once again regarding the Rays / Red Sox dirty feud.
-"In my opinion, it's a bunch of bull what they did... All I got to say is what comes around goes around, man. Payback's a b****, I'll tell you what."
During the June 4th game between these two clubs, Red Sox center-fielder Coco Crisp complained about Rays' shortstop Jason Bartlett blocking second base during a steal which led to Crisp later deliberately taking out Rays' second-basemen Akinori Iwamura's legs. This tiny
revenge
led to a scuffle of words between Crisp and Rays' manager Joe Maddon as Crisp entered the dugout.
The following day, Jason Shields threw a
revenge
pitch directly at Coco Crisps waist (note: Not Head or anywhere near his upper part of his body). Coco then, to the apparent surprise of the Red Sox dugout, charged the mound, successfully dodged a right punch by Shields and got mauled by Jonny Gomes, Dioner Navarro, Akinori Iwamura and BJ Upton and the rest of the Rays.
As for the aftermath comments made by these two teams go, it seems that the two clubs are coming at this in totally different ways. Red Sox are seeking
revenge
 while the Rays have kept quiet.
-After the game, Coco Crisp told reporters that, "they [The Rays] acted like little girls..." and went on and on.

-Days later, Rays' Manager Joe Maddon came out and said he defends what his team did and is actually proud of the way they handled the situation. He was happy that his team defended his pitcher and was able to take control of the situation.
-Wednesday, June 18th, Red Sox closer Jonathan Papelbon sings to Mohegan Sun Sports Tonight about the Red Sox seeking
revenge
.
It might be easier for a pitcher to come out and say stuff like that since they aren't stepping into the batter's box and facing 90+mph fastballs that could be aimed at their head. Maybe he is just drawing this whole feud out for the sake of pumping his team up, knowing that last time the Sox came to Tampa Bay they were swept. Who knows?
All I know is that I have cleared my schedule for the June 30th-July 2nd Red Sox vs. Rays series in Tampa Bay.
Revenge
 is supposedly sought, I cannot miss that, and neither should you!